Singapore, 25 April 2022
Entropy's launch as a world's first invention
Ecospec Noveltech announced the launch of Entropy, a world's first beverage enhancement technology that can make any of your favourite beverages anti-oxidising, metabolically energising and taste-enhancing instantly, with no chemicals or additives added. 
Enjoy the following video for you to understand more about Entropy!
Unveiling of Entropy's first domestic product – Entropy Viva
Within this launch, the very first home-use beverage enhancement device, Entropy® Viva, is also unveiled. This home-use device can produce the benefits mentioned above in a full range of beverages – from non-alcoholic beverages such as coffee, tea, juice and water, to alcoholic beverages such as wine and whisky.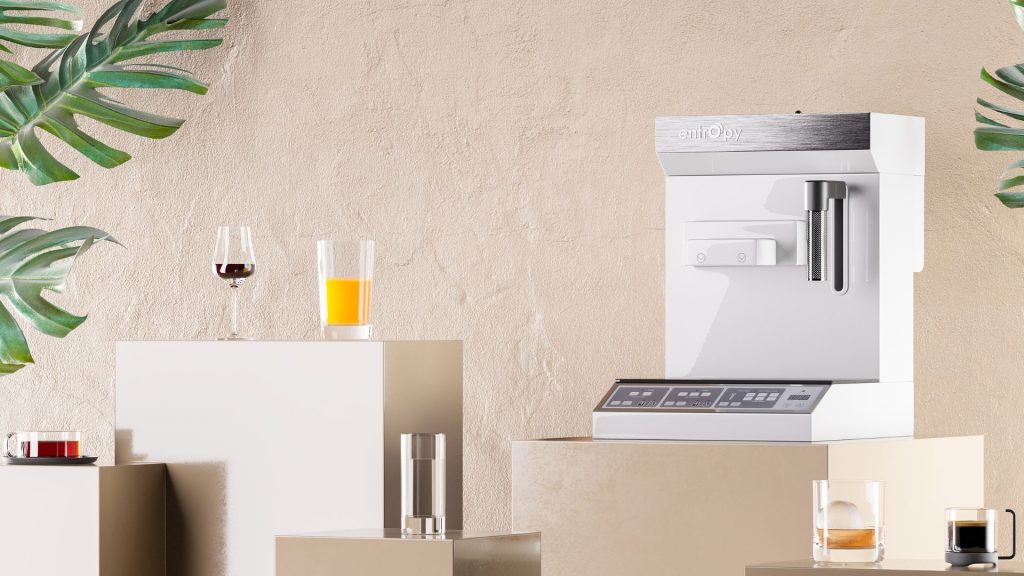 Launch Event – Entropy Night
The launch event named "Entropy Night" was held at the Four Seasons Ballroom at Four Seasons Singapore. With an esteemed guest list, Entropy Night was attended by hoteliers, restauranteurs and media partners in leading organisations in their respective industries. Enjoy the following launch event video that summarises the Entropy Night experience.
Words from our founder
"Crystallising the past twenty years of green technology development, our Ultra-Low Frequency (ULF) wave technology, originally used in industrial applications, has now been repurposed and launched to the public as an Entropy line of consumer and commercial products. Entropy is capable of elevating any beverage by enhancing their anti-oxidising, energising and taste-enhancing properties, without chemicals or additives. This brings health benefits directly to everyone, providing a healthier and more enjoyable beverage-drinking experience for all."
Mr. Chew Hwee Hong, Founder and Managing Director of Ecospec Noveltech
Summary of Entropy
To recap, Entropy as a technology and Entropy Viva can help elevate your beverages in the following ways: 
Generates non-residual cell-protecting antioxidants in your beverages, without using chemicals or additives 
Infuses metabolic body energy into your beverages that your body can use to promote fat burn, boost immunity and support better body organ functions 
Enhances the taste of your beverages by stripping away rough and dry astringency from wine or tea and burning sensation felt in throat from whisky or liquor 
More Information
Please visit https://entropyworld.com or https://entropy.com.sg